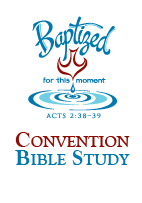 Over the past few weeks, our
Pastor
has been leading a Bible study at
Lutheran Church of the Incarnate Word
titled
Baptized for This Moment
. The Rev. Timothy Pauls of Good Shepherd Lutheran Church, Boise, Idaho, authored the study.
Here's some background information on the study...
In preparation for this summer's 65th Regular Convention of The Lutheran Church—Missouri Synod, a special Bible study that relates to the convention theme, "Baptized for This Moment," is now available. Prepared in five parts, this study is particularly appropriate for congregational or group use during the Lent or Easter seasons. As you move through the study, you will review Baptism as it is explained in Scripture; what it means to be born of the water and Spirit; the repentance, joy and security that are ours as baptized children of God; and how each of us is baptized to bear bold witness to Christ, baptized to be about acts of mercy for our neighbor and baptized to live joyfully in our life together.
Today we covered the final section of the study,
Baptized for Life Together
. I found one excerpt by Pastor Pauls (page 32) in today's session to be very informative. Here it is...
We should be eager to maintain unity. "Eager" implies that we make haste and take pains to do so. Current trends in Christianity tend to emphasize diversity; in some cases, the Christian faith is so individualized that it seems each Christian is permitted his or her own system of beliefs, and the only unity is that "we all believe in Jesus." Paul makes unity a top priority, something that Christians should eagerly and actively pursue. Even in matters of adiaphora, Christians and congregations should be careful that their practices do no harm to the unity among members and sister congregations. Unity is given by God and, therefore, is to be treasured over personal expression or local innovation. The word "maintain" is remarkable here. The Ephesians do not have to strive to create unity, but only maintain it because it has already been given to them. The unity of the Spirit that is the basis of life together is not the work of man, but a gift of God. However, the fact that they must strive to maintain it also means that it can be lost.
Powerful words by Pastor Pauls!